Las Vegas Woods & Waters Club
"All we want to do is hunt, fish and talk about it."
Las Vegas Woods and Waters Club
The 32nd Annual Sportsman of the Year Awards Banquet
Saturday, Feburary 25th, 2023
Gold Coast Hotel and Casino-Nevada Ballroom
Doors open at 5:00 pm
Dinner at 6:45 pm
NO WALK UPS ALLOWED IN THE DOOR
Call Mike Reese at 702-400-6501 for more information, if needed
Mail/Email Form with Check or Credit Card to: LVWWC, PO Box 29081, Las Vegas, NV 89126 Email: mikereese224@gmail.com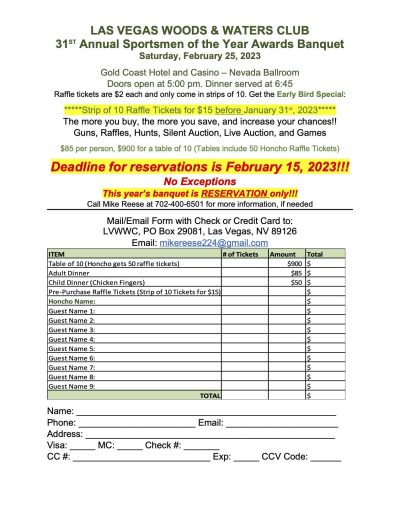 Fill out and either Email or Mail form in
The Las Vegas Woods and Waters Club is a not-for-profit organization comprised of sports people who love and appreciate the great outdoors.
Our organization is interested in conservation of our wildlife and habitat resources for enjoyment by future generations. All of our activities stress good game management as well as fellowship.
The Las Vegas Woods and Waters club was started in 1991 by sportsman Ken Johnson. Mr. Johnson had relocated to the Vegas valley from Texas. He knew very few people and truly missed the close bonds he had with fellow outdoorsmen hunting and fishing. There was a sportsman's club (the Austin Woods and Waters) back home where Ken was very active and enjoyed his time afield with many friends.
Ken read an article or two in the local newspaper related to the outdoor activities that he enjoyed. He gleaned a few names listed in those articles and gave each guy a call. He told of his plight in not knowing where to hunt birds locally and soon he made new friends and they began to meet regularly for lunch. Soon the Las Vegas Woods and Waters club was founded with Ken Johnson as the first president.
It's a great place for new comers to town to meet like minded folks and share a story or hunting adventure or a secret fishing spot. Las Vegas Woods and Waters is an organization that caters to its members. Las Vegas Woods and Waters is always a pleasant experience regardless of the number of hours you may participate in it.
We don't care to make headlines, because headlines are usually bad. We don't want to make waves, because waves sink ships. We want a comfortable quiet organization that is just for the membership. Our meetings, held the second Wednesday of every month, are "laid back". Everything is easy and pleasant.
The presentations at lunch are on bird seasons, how the fish are biting, or maybe a report on an upcoming river float trip. The programs are related to the great outdoors, anywhere from Africa to Alaska to our own backyard. We try to hold an fun activity every month. Shooting trap, archery, striper fishing at Lake Mead, pistol silhouette shoots, fly fishing, black powder shoots or how about a pig roast or a crawfish boil? These are all some of our regular fun events.
It is delightful to be with and meet people with interests similar to yours. Yes, we are "laid back", and we love it. In Las Vegas Woods and Waters there is more genuine laughter, more interesting people, and more good times than any organization we know of. If you enjoy the great outdoors and all that it has to offer, LVWW may be the club for you. If you like hunting, camping, fishing, shooting, archery, or sitting around a campfire telling stories about these things, LVWW can give you a chance to do so, join now. We have a little newsletter we call the GameBag, it is full of club activities and events.
Look at the links to our events, our newsletter and photos to get a better idea of who we are and what we do.
What are you waiting for? Get your membership today.
We meet every 2nd Thursday of the month for a lunch meeting with a guest speaker with topics relating to our outdoor pursuits. Meeting location Las Vegas National Golf Course at 1911 East Desert Inn door open at 11:15 AM cost $20. We also hold one or two events each month, either shooting or fishing related. Most shooting events are held at Clark County Shooting Complex (CCSC) located at north Decatur Blvd.